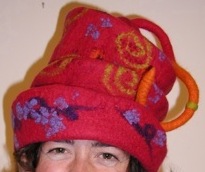 FIBER ART RESIDENCIES
Jeannie Specializes in Hand-Felted Wool classes for students pre-K through college and beyond. She has been leading residencies and workshops throughout the Northeast for more than 15 years.

Browse the website to learn more! Or reach out to Jeannie to collaborate with her in customizing a program that's designed just for you and your students.
INTUITIVE TAROT READINGS & CLASSES
"Let yourself be silently drawn by the strange pull of what you really love, it will not lead you astray." ~Rumi
MEDITATION WORKSHOPS
Meditation changes us, from the inside out. It's like a slow burning fire, and as we fan the flames of that fire through daily practice, everything but the truth of who we really are starts to burn away.